• Angadi of Spices • Chilli Powder • Indian spices • Kashmiri Chilli Powder • powdered spices • Red Chilli Powder • spices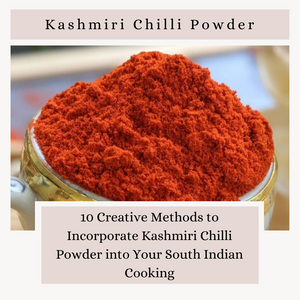 Alright, so here's the deal: we're diving into the fantastic world of Kashmiri Chilli Powder and its exciting role in South Indian cooking. This conversation is all about blending the flavors of two rich culinary traditions, adding a sprinkle of excitement to your kitchen adventures.  It's interesting to note that South Indians, including myself, might have a tendency to be a little hesitant when it comes to using Kashmiri Chilli Powder in our everyday cooking. There are a few factors that contribute to this inclination. South Indian cuisine has a wonderfully distinct tradition of relying on locally available spices, often...
---
• Angadi of Spices • Chilli Powder • Indian spices • Kashmiri • Kashmiri Chilli Powder • Red Chilli Powder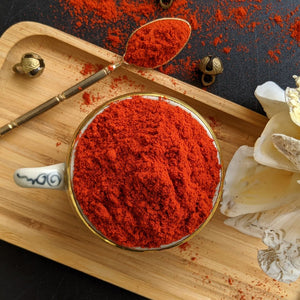 The world of spices is diverse and vibrant, offering an array of flavors, colors, and aromas to elevate our culinary experiences. Among these spices, Kashmiri Chilli Powder stands out as a jewel in the crown. Renowned for its exceptional quality, striking red hue, and unique flavor, Kashmiri Chilli Powder is a staple in Indian and international cuisine. In this article, we will delve into the fascinating world of Kashmiri Chilli Powder, exploring its origins, characteristics, uses, and the reasons it has become a beloved spice worldwide. A Taste of Kashmir: Origins and Cultivation Kashmiri Chilli Powder hails from the picturesque...
---
• Angadi of Spices • anti-inflammatory • antibacterial • antiseptic • anxiety • fitness • health • Indian spices • spices • spices for anxiety • spices for depression • spices for festivals • spices for tea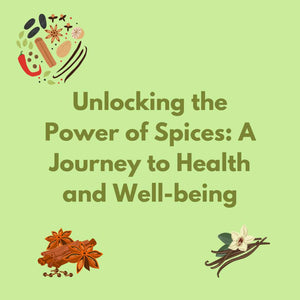 In the world of delicious cuisine, spices steal the show. They're not just there to dazzle your taste buds; they bring a whole lot of goodness to the table. These aromatic gems have been loved worldwide for centuries. But did you know they're not just flavor heroes? Spices are like the unsung health champions of your meals. Nutrient Boost: The Spice Cabinet as a Nutrient Treasure Trove Hidden within the colorful world of spices are an array of essential nutrients waiting to enhance your diet. From vitamins to minerals and antioxidants, spices are nature's nutritional powerhouses. Incorporating spices into your...
---
• Angadi of Spices • Cardamom • cardamom chai • festival • fresh spices • green cardamom • Indian spices • spices • spices for festivals • spices for tea • tea • tea spices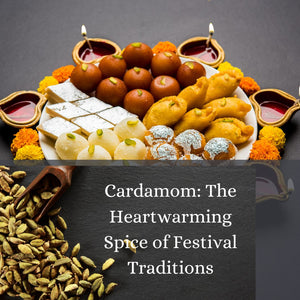 India is a land of vibrant festivals, where traditions and flavors blend harmoniously to create a sensory spectacle like no other. Among the many spices that grace the Indian kitchen, cardamom stands out as a heartwarming and aromatic gem. In this blog post, we'll explore how cardamom plays a significant role in Indian festival celebrations and how it adds depth and flavor to the festivities. 1. Sweets and Desserts: Indian festivals are synonymous with a profusion of delectable sweets and desserts. Whether it's the heavenly aroma of a simmering pot of milk for kheer or the rich, sugary notes of...
---
• Angadi of Spices • alleppey turmeric • Cardamom • Chocolate mix • cinnamon • cloves • Diwali • festival • ginger • green cardamom • Hot Chocolate • incredible spice • Indian spices
Diwali and spices are like an old, cherished friendship, coming together to create something truly magical. As we celebrate the Festival of Lights, spices take center stage in our kitchens, our rituals, and our hearts Diwali and spices – they're not just a festival and ingredients; they're a heartwarming tale of tradition, flavors, and cherished memories. When I think of Diwali, I think of the kitchen coming alive with the irresistible scent of spices, a fragrant symphony that stirs up nostalgia and excitement. It's a time when families unite, laughter fills the air, and the aroma of spices becomes the...