• Angadi of Spices • Cardamom • cardamom chai • festival • fresh spices • green cardamom • Indian spices • spices • spices for festivals • spices for tea • tea • tea spices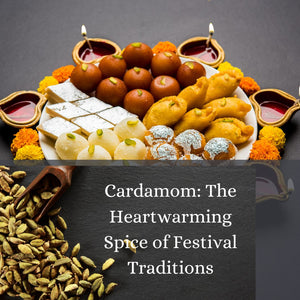 India is a land of vibrant festivals, where traditions and flavors blend harmoniously to create a sensory spectacle like no other. Among the many spices that grace the Indian kitchen, cardamom stands out as a heartwarming and aromatic gem. In this blog post, we'll explore how cardamom plays a significant role in Indian festival celebrations and how it adds depth and flavor to the festivities. 1. Sweets and Desserts: Indian festivals are synonymous with a profusion of delectable sweets and desserts. Whether it's the heavenly aroma of a simmering pot of milk for kheer or the rich, sugary notes of...
---
• Angadi of Spices • alleppey turmeric • Cardamom • Chocolate mix • cinnamon • cloves • Diwali • festival • ginger • green cardamom • Hot Chocolate • incredible spice • Indian spices
Diwali and spices are like an old, cherished friendship, coming together to create something truly magical. As we celebrate the Festival of Lights, spices take center stage in our kitchens, our rituals, and our hearts Diwali and spices – they're not just a festival and ingredients; they're a heartwarming tale of tradition, flavors, and cherished memories. When I think of Diwali, I think of the kitchen coming alive with the irresistible scent of spices, a fragrant symphony that stirs up nostalgia and excitement. It's a time when families unite, laughter fills the air, and the aroma of spices becomes the...
---
• Angadi of Spices • aromatic • Cardamom • cardamom chai • Diwali • diwali gifting • festival • festival gifting • gift • green cardamom • immunity • immunity boosting • spices for festivals • spices for tea • tea • tea spices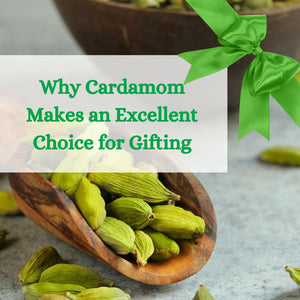 Why Cardamom Makes an Excellent Choice for Diwali Gifting Selecting the perfect gift can often be a delightful yet challenging task. It involves not only finding something the recipient will appreciate but also choosing a meaningful and memorable gesture. One gift option that embodies both flavor and sentiment is green cardamom, a versatile and aromatic spice with a host of compelling reasons that make it an excellent choice for gifting. Beyond its culinary uses, cardamom holds cultural and symbolic significance in Indian festivals. It represents warmth, hospitality, and good wishes, making it a popular choice for gift packages During festive...
---
• ThoughtAxis Solutions Private Limited • alleppey turmeric • anti-inflammatory • antibacterial • antiseptic • aromatic • festival • fresh spices • ganesha chaturthi • ganesha habba • how to make turmeric ganesha at home • immunity boosting • powdered spices • turmeric • turmeric ganesha • turmeric ganesha benefits • turmeric ganesha kspcb • turmeric powder • turmeric powder ganesha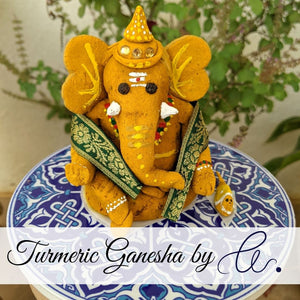 Ganesha Habba / Ganesha Chaturthi is just a week away and we are here to slightly nudge you to make Ganesha idol at home! The main reason for this article is to support the concept of pollution free festivities and the "1 Million Turmeric Ganesha" campaign by Karnataka State Pollution Control Board. Scroll till the end of the article to participate in the drive and win prizes. There are numerous ways to make the Ganesha idols at home, but we being a spices company want to bring your attention to turmeric Ganesha.  The concept of Turmeric Ganesha is gaining more importance...