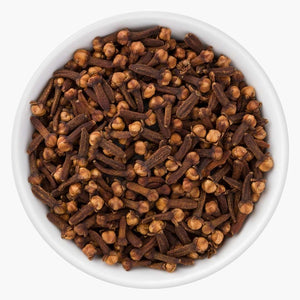 Angadi of Spices
Malabar Cloves
Regular price
Rs. 130.00
Sale price
Rs. 139.00
Unit price
per
Tax included.
Shipping
calculated at checkout.
Product Specifications
Introducing our Malabar Cloves, a spice treasure from the Malabar Coast renowned for its exceptional quality and intense flavor. These handpicked cloves are the essence of your culinary creations.
Quantity: 50 Grams
Key Features:
Exceptional Quality: Our Malabar Cloves are sourced from the Malabar Coast, known for producing some of the finest cloves in the world. Their impeccable quality is a testament to the region's heritage.

Intense Flavor: These cloves offer a robust and intense flavor profile, featuring a sweet, warm, and slightly pungent taste that adds depth to your dishes.

Aromatic Delight: The captivating aroma of our Malabar Cloves will infuse your kitchen with a fragrant and comforting essence, making every culinary experience a sensory delight.

Versatile Spice: These cloves are a versatile addition to your spice collection. They can be used in both sweet and savory dishes, from baking and roasting to soups and sauces.

Carefully Selected: Each clove is handpicked and meticulously selected to ensure you receive only the finest and most aromatic specimens.

Packaged Fresh: Our Malabar Cloves are thoughtfully packaged to retain their freshness and flavor, guaranteeing a long shelf life for your convenience.
How to Use:
Culinary Creations: Enhance your recipes with the robust flavor of Malabar Cloves. They are perfect for stews, curries, desserts, and more.

Baking: Add a touch of warmth to your baked goods, from cookies and pies to bread and muffins.

Beverages: Infuse your teas, coffees, and mulled wines with the aromatic charm of these cloves.

Aromatherapy: Malabar Cloves can also be used for their aromatic properties, offering a comforting and soothing fragrance.
Elevate your culinary adventures with the richness and intensity of Malabar Cloves. Let the flavors and aromas of this exquisite spice transport your taste buds to the vibrant and historic Malabar Coast.
---
Share this Product
---