• ThoughtAxis Solutions Private Limited • alleppey turmeric • aromatic • Asian cuisine • bad breath • black pepper • cinnamon • depression • elaichi • fresh spices • ginger • good sleep • green cardamom • pepper • peppercorns • recipe • spices for tea • tea • tea spices
Tea is a popular beverage enjoyed all over the world for its soothing and refreshing properties. The Camellia sinensis plant is the source of all types of tea, including green, black, white, and oolong. One of the best ways to enhance the flavor and aroma of tea is by adding different spices to it. Do you add spices to teas or Do you just make a tea out of your spices? Which one would you prefer? I experiment adding spices to my TEA. I am not a big fan of masala tea / masala chai as it is very overwhelming, but...
---
• ThoughtAxis Solutions Private Limited • alleppey turmeric • anti-inflammatory • antibacterial • antiseptic • good sleep • healthy • reasons • turmeric • turmeric milk • turmeric powder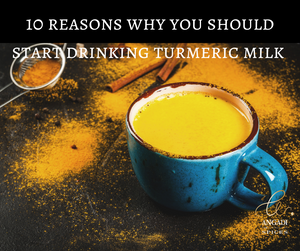 Turmeric is the powerhouse of healthy properties. Pandemic has opened our eyes and most of us who were not open to home remedies have started to trust them more than ever.  One such beverage which is used very regularly at every Indian home is Turmeric Milk. These are the 10 different ways turmeric milk helps us maintain the healthy body Helps fight infection Helps fight respiratory issue Strengthens the immune system Great for digestion Induces sleep - When you have turmeric milk in the night it induces sleep. Fastens the recovery from any injury Promotes liver health Relieves you from...