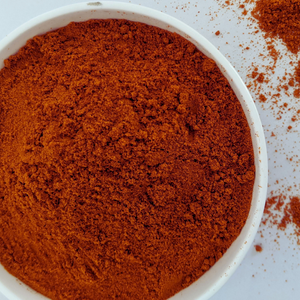 Angadi of Spices
Guntur Chilli Powder
Regular price
Rs. 139.00
Rs. 0.00
Unit price
per
Tax included.
Shipping
calculated at checkout.
Discover the specialities of Guntur Chilli Powder and unleash its fiery flavour to add excitement and depth to your culinary creations. Whether you crave intense heat or want to experiment with bold flavours, Guntur Chilli Powder is the perfect spice to embark on a flavorful journey

The speciality of the Guntur Chilli Powder we offer
Exceptionally spicy with a fiery heat
Distinct flavour profile with tanginess and fruity undertones
The vibrant red colour adds visual appeal to dishes
Versatile ingredient for various cuisines and recipes
Premium quality carefully selected Guntur chillies
A culinary adventure for spice enthusiasts
Pure and natural
It gives an amazingly bright red colour to all of your recipes. 
Use of Guntur Chilli Powder

The common cuisines which use Guntur chilli powder are
Adds intense spiciness and heat to dishes
Enhances the flavour of curries, sauces, and marinades
Provides a vibrant red colour to dishes
Perfect for those who enjoy bold and fiery flavours
Adds a unique tanginess and fruity undertones to recipes
Versatile spice for Indian, Asian, and fusion cuisines
Storage Instructions: Store it in an airtight container and away from the sunlight
How are we different?
We sell only in a Limited Quantity 
We bring in FRESH, PURE, UN-ADULTERATED, FLAVORFUL Chilli Powder made of freshly powdered dry Guntur chillies
Slow ground to preserve the flavour and colour

Pesticide FREE, Organically grown 
No ADDED-Colour or Preservatives 
Invest in your health and buy our fresh spices
All of our spices are made in small batches so that we can give you the quality and freshness which you deserve.
---
Share this Product
---